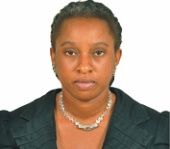 Uneke Bilikis Iyabo
Dept of Biological Sciences, Faculty of Sciences, Ebonyi State University, Abakaliki, Ebonyi State, Nigeria.
Biography
Bilikis Iyabo Uneke holds a doctorate in Fisheries Biology. She is a leading researcher and lecturer in the Department of Biological Sciences, Ebonyi State University, Nigeria. In the last decade, her work has focused on aquaculture, stock assessment, modeling, fisheries management and policy. She has worked extensively on the parasites of teleost fishes of the inland waters of southeastern Nigeria.
Abstract
The fish live in balance with the parasites, but this balance can be broken mainly by environmental disturbances, among which the changes in the water quality have a relevant role, as well as inadequate management and high stocking densities of fishes.Thus the prevalence of protozoa parasites in Tilapia zilli in Ebonyi River, Southeastern Nigeria. Samples were collected from Ebonyi River and protozoan parasites were isolated using standard laboratory method. The result showed that out of 120 fish of T. zilli 61.7% were infected by protozoan, while 38.3% were not infected. Eimeria spp (Coccidia) had the highest prevalence of (32.4%) while Euchynorhycus, Chlodonella, Dactygyrus and Ichyobodo had the lowest prevalence of 1.4%, 2.7%, 4.1% and 4.1%) respectively. Other parasites identified included Triochodina (18.9%), Piscinoodouium (9.5%) Hexemita (10.8%) Teczospina (5.4%) and H. intestinal (10.8%). This study revealed that T. zilli with length ranges from 5.1-7.5 TL cm (Total length) were most prone to protozoan infection while those ranging from 19.6-20.5 TL cm and above were least infected. The prevalence of protozoan infection in T. zilli in relationship to the weight, showed that T. zilli with weight ranges from 8-20g were more infected by protozoan than those with weight ranges from 131-140 and above indicating that smaller fishes were more susceptible to parasitic infection; therefore consumers should pay more attention to the size of fish they consume.
Table 1. Prevalence of protozoan parasite in T. zilli
| | | |
| --- | --- | --- |
| Protozoa parasite | No. of parasites isolated | % prevalence |
| Emeria sp | 24 | 32.4 |
| Trichodina sp | 14 | 18.9 |
| Piscinoodonium sp | 7 | 9.5 |
| Hexemita sp | 8 | 10.8 |
| Teczospina sp | 4 | 5.4 |
| Euchynorhycus sp | 1 | 1.4 |
| Dactygyrus sp | 3 | 4.1 |
| Icthyobodo sp | 3 | 4.1 |
| Chlodonella sp | 2 | 2.7 |
| H. intestinalis | 8 | 10.8 |
| Total | 74 | |